HOME
:: Stamping Tips
---
| New Card Ideas | Rubber Stamping Basics | Basic Paper | Legend Card Samples | Card Samples | Embossing Is Easy To Do | Ink Pads | Scrapbook Ideas For the Family | Stamping on Candles | Unmounted Rubber? | What is Decorative Rubberstamping? |

Rubber Stamping Basics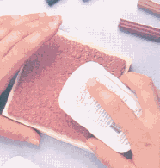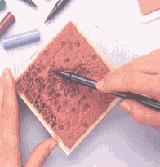 | | |
| --- | --- |
| | |
| 1. Ink Rubberside Up | 2. Color Rubberside Up |
JLM Connections, Inc. uses the finest materials to produce all of their rubber stamp products. Each design is produced on the premises in 100% red rubber for precise deep etched designs to make countless of superior impressions. The rubber is then mounted on 3/4" solid maple wood with gloss labels for easy stamp identification. Many of our stamps come with colored labels which only suggest the color highlights to use. But you can select any method for personal stamping effects. The following provides some examples.
Press or tap the stamp firmly onto the stamp pad several times. Large stamps can be inked easily on the raised pads by moving them around over the surface. Some stampers prefer to lay the stamp face up (as shown above) on the table and apply the pad to the stamp. Note that any size pad will work on a large stamp this way. With 1" x 1" Cube ink pads decorate the rubber with several different colors for multicolored effects. Either way is effective. Make sure the stamp is well inked by looking at its surface. If there are areas that appear "dry," you need to ink the stamp more thoroughly.

Apply firm, even pressure to the stamp. Stamp on a flat, smooth surface. Stamp with firm pressure without rocking as this will cause the image to blur.

Large stamps and stamps with solid areas require more ink and more pressure. Apply even pressure to entire area using fingertips, but not allowing the stamp to move. For large stamps or designs with a lot of filled in areas, more pressure can be applied if you stamp standing up.

Small stamps and fine line designs require less ink and less pressure

How To Clean Rubberstamps
An inexpensive way to clean stamps is with non-alcohol Baby Wipes. Simply clean stamps on top layer and discard the dirty layer and promptly wipe dry with a paper towel .

Another method of cleaning stamps is to rub them over the surface of a damp sponge. A cellulose sponge works best because it does not break down or "lint up" your stamps. The sponge may be dampened with plain water, or a drop or two of dish soap can be added. Keep the sponge in a plastic container with a cover so it's ready at all times. Occasionally rinse the sponge out in water. This method of cleaning works well for water-soluble inks.

Do not place stamps in running water or scrub them too hard as this will further deterioriate the label, wood and rubber.